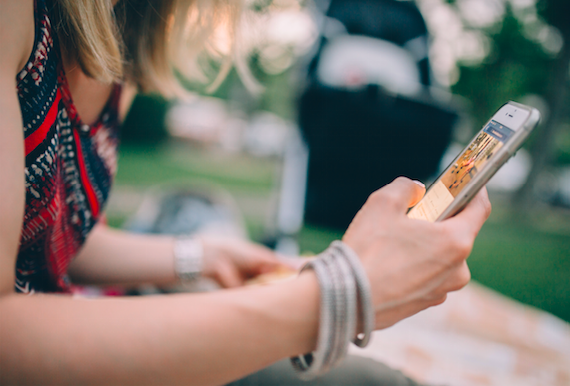 It's inevitable: this Labor Day weekend, social media will blow up with everything you're missing. Expect sweeping Snapchat stories from your fashion blogger friend's 3-day escape to Tulum, glossy albums of family barbecues you weren't invited to (wth, Aunt Bonnie?), and a slew of meticulously filtered portraits from infinity pool edges on anonymous lake house lanais. Hey, we don't have plans this weekend either. But that doesn't mean you should spend the holiday sad and jealous, whispering to your cats from the trappings of your unwashed bedsheets. Avoid creeping social media envy altogether and get at some inner peace with these exercises in mindfulness and logical thinking:
1. "Not today, brain!" Recognize when you're having negative thoughts and fight back. Let's say it's Saturday night, you're halfway through this season of Wet Hot American Summer and also a family-sized tub of hummus, when suddenly, scrolling through Instagram, you see a picture of that girl you cyber-stalk on the reg. Of course, she's on a rooftop, drinking champagne with friends, and looking truly fabulous. You look down at the empty bag of "reduced guilt" pita chips cradled in your sweatpants and hear the army self defeating thoughts lining up to storm the beach. Stop right there.
Instead of labeling yourself: "I'm a loser. I'm overeating again on my couch, my body sucks, I'm here watching television while everyone else is out looking great and having a good time with friends" or catastrophizing the situation: "If I stay on this couch I'll get fat, never have a social life, never have a great career, and be stuck in a rut forever" try challenging your brain with a few positive comebacks. For example: "I'm not a loser. I'm not overeating, my body isn't perfect, but it doesn't suck. I'm just enjoying my holiday and staying in for a night. This is my choice and I'm relaxing. I'll spend time with friends when I choose to" or "Just because I'm watching television, doesn't mean I'll never have a social life or be successful. I have friends and a job and this is just one night of relaxation."
This is easier said than done, for sure, and can sometimes feel disingenuous. Practicing mindful thinking is not a band-aid approach to managing your negative feelings and breaking mental habits. The exercise might not make you feel better immediately, but it's a jumping off point to change your thought patterns for good. Try this method every time you catch yourself having a negative thought. It'll get easier.
2. Disconnect and plan to do something productive…then do it. If social media's got you feeling super worthless, store your phone and/or computer in a closed off space and unplug for a couple hours. During this time, do an activity (or a few) that makes you feel good. No pressure to do anything extravagant. What about folding that pile of laundry that's been sitting on the floor for a week? Go mail that Thank You card you've been meaning to send Aunt Bonnie. Catch up on your favorite podcast while making lunch. Go for a jog or pet a puppy. Call your mom. Try not to think of these activities as pointless distractions from social media, but as mental and physical maintenance. It's possible to fall so deep into social media obsession that you wind up neglecting your well-being, and the real people and things in your life. Don't put life on hold to stare at a snapshot of your ex's new partner for the fourteenth time. Take a break to be in the moment and interact with the world around you.
3. Remember: social media doesn't tell the truth. We're sure you've heard the "highlight reel" comparison a gazillion times. But it's true. Most people are only sharing the best moments from their lives on social media – the days when they look their best, vacations, parties, awards, babies, and weddings. They aren't giving you access to the tough stuff: addictions, illnesses, relationship and body image issues, their failures and mistakes. Not that you should hope people are experiencing pain behind a facade of endless pleasure, just keep in mind that no one's life is perfect. Stay grounded, stay realistic, and most importantly, stay connected to the truth.